Redheads and Indians
Them Raggedy Bones recently finished work on their first record "Redheads and Indians". The 4 song EP record is now available through I-tunes, Amazon, CD Baby, and other outlets, but for a limited time only, enjoy streaming mp3 audio of the entire "Redheads and Indians" album right here at themraggedybones.com Enjoy!
1. (Never Even Been A) Has Been
2. Sinkin Like A Stone
3. Roll On Mary
4. Whiskey Road
Uncle Frish's Whiskey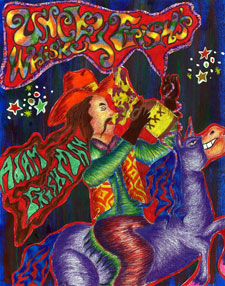 Representing a cross section of the catalogue of original material Adam has been developing over the prededing decade, the four song EP "Uncle Frish's Whiskey" marks the first solo release for Adam Frishman. Despite some demo recordings made with various high school and college bands, this is the first record where we find Adam taking over all writing duties as well as doing all the vocals and playing most of the instruments, joined by a couple of local musicians from the Nederland, CO area. Adam's writing has in recent years leaned increasingly toward simple songs and compelling stories, drawing inspiration from guys like John "Marmaduke" Dawson, Merle Haggard, and Gram Parsons. After years of playing his songs at countless bars, parties, and campfires Adam decided there needed to be some recorded evidence of the catalogue of songs he'd been building. The resulting record "Uncle Frish's Whiskey" aspires to be an honest representation of the spirit of the songs.
Listen to the tracks below
1. Cans In A Kidney Store
2. Guess I'm An Outlaw
3. For A Song
4. Barefoot In Oregon
All music copyright © Adam Frishman.
The album Uncle Frish's Whiskey by Adam Frishman is available at: